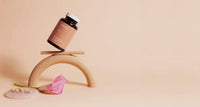 Why should you take Knowell?
Knowell's formula was created to nourish all aspects of women's reproductive health. Your reproductive system and hormones are intrinsically linked and when even one of your hormones is out of balance, it creates a ripple effect that can upset the entire system. This can result in problematic and often painful PMS symptoms, irregular periods, fertility issues, mood swings, chronic fatigue, weight gain, skin and hair issues. (And that's just the beginning.)
There are many reasons why a woman's hormone health may be less than ideal, but nutrient deficiencies are one major factor. That's where Knowell comes in. It provides the nutritional foundation that allows your hormones to flourish.
Our supplement is designed to support you, whether you are trying to make PMS less problematic, regulate your cycle, counterbalance the side-effects of the pill, optimize your efforts while trying to conceive or manage the symptoms of PCOS.  Knowell is for all women who want to work with their hormones, not fight against them. 
Vegetarian
Non-Soy
Non-GMO
Gluten Free
Made in USA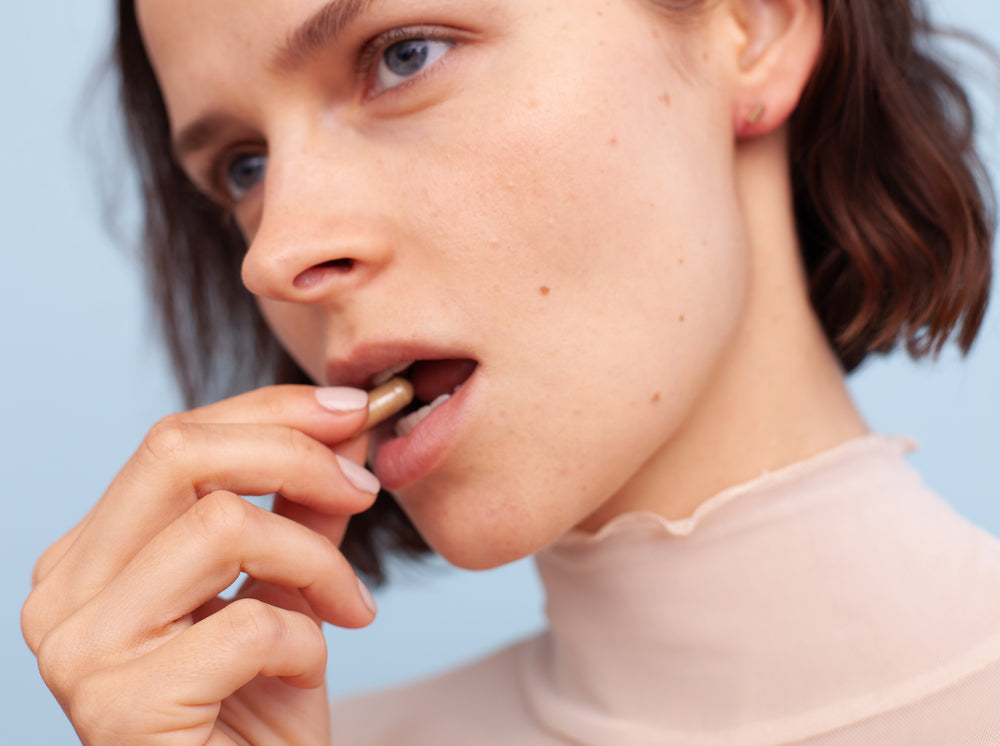 One capsule, 28 ingredients
Our intention was to create the most complete supplement on the market to support women's reproductive health—and we're so proud of what we accomplished. Every capsule is home to 28 synergistic ingredients, all thoughtfully chosen and precisely dosed to optimize your everyday.
Get to know our ingredients
B Vitamins
Thiamin B1 • Niacin B3 • Vit B6 • Folate B9 • Vit B12.
Transform food into fuel so you get the most from your healthy diet—essential for hormone system function.

Thiamin B1 - 1.2mg • Niacin B3 - 16mg • Vit B6 - 1.7mg • Folate B9 - 200mcg DFE • Vit B12 - 2.4mcg.
Antioxidants
Vit C • Vit A • Turmeric • Black Pepper.
Protect and repair all cells to prevent early signs of aging, while nourishing the thyroid and amping up the effects of nutrients.

Vit C - 100mg • Vit A - 1350 mcg • Turmeric - 150mg • Black Pepper - 10mg.
Minerals
Zinc • Chromium • Selenium • Manganese.
Involved in brain signaling, immune system function, and maintaining regular periods.

Zinc - 11mg • Chromium - 35mcg • Selenium - 100mcg • Manganese - 2.3mg.
Vitamin D3
Vitamin D3.
The building block for all hormones: You might say D3 is the hardest-working vitamin in the game. Helps maintain healthy skin and strong bones.

Vitamin D3 - 50mcg.
Inositol
Myo-Inositol.
Supports neurotransmitter production in the brain while also optimizing ovarian function and balancing blood sugar. (See ya, sweet cravings.)

Myo-Inositol - 600mg.
Adaptogenic Herbs, Roots, and Plants
Ashwagandha • Chasteberry • Maca • Rhodiola Rosea.
Help the body adapt to stress, giving you the mojo to tackle your work day and workouts. Invigorate the libido and ease symptoms associated with PMS.

Ashwagandha - 250mg • Chasteberry - 250mg • Maca - 200mg • Rhodiola Rosea - 100mg.
Mushrooms
Chaga • Cordyceps • Reishi.
Adapt to your body's needs, promoting immune support, restful sleep, and sustainable energy without the crash.

Chaga - 50mg • Cordyceps - 50mg • Reishi - 50mg.
Probiotics and Enzymes
Bromelain • Bacillus Coagulans • Lactobacillus Rhamnosus • Lactobacillus Fermentum • Lactobacillus Gasseri.
A happy gut equals a healthy immune system, better mood, balanced digestion, and optimal nutrient absorption.

Bromelain - 100mg • Bacillus Coagulans - 133mg • Lactobacillus Rhamnosus - 50mg • Lactobacillus Fermentum - 20mg • Lactobacillus Gasseri - 5mg.
Cranberry
Cranberry.
Sweet, tart, and smart! Trusted for years to boost urinary tract health, thanks to powerful antioxidant and antibacterial properties.

Cranberry - 100mg.
Nutritional Information
Customer Reviews
07/16/2023
HS

United States
Changed my life!
My psychiatrist recommended Knowell supplements after I told him about my irregular periods and extreme depression. He suspected that my hormones levels were creating the depression, irritability and constant fatigue that I was experiencing. Literally less than a week after I started taking these, the fatigue and brain fog I had been experiencing for months went away. This supplement is not a cure all, but it has really changed my life!! I've also noticed better skin and improved libido. Amazing supplement, can't recommend it enough!!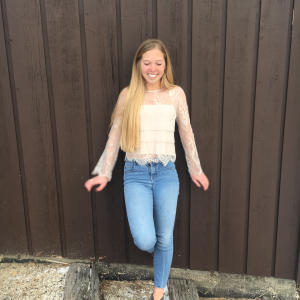 J
05/26/2023
Jess

United States
Returned Period (after 4 years)!!
I decided to try this after losing my period back in 2019 once I came off the pill. I had been diagnosed with hypothalamic amennorhea. I significantly cut back exercise, increased food, and even tried HRT. HRT temporarily helped bring back menstruation - but it instantly went away after I stopped taking it. After about ~1 month and 1 week, I got my first natural period!! I had experimented with NAC and Chasteberry alone for months with no results. Thank you!!!!
05/10/2023
Courtney G.

United States
Amazing
These pills are really easy to digest and I saw a huge difference in my cycle this month. I have always dealt with my inconsistencies in my cycle, but this month is came right on time with less irritation. I have been taking sole myo- instinol for a few months but decided to switch to Knowell bc of the other supplements and vitamins that are included all in one pill!
01/30/2023
Madison H.

United States
Works Wonders
So far, my experience taking knowell has been hugely helpful to the menstrual struggles I have with my condition of PCOS. I am currently on a journey of no brith control and it's been helping me naturally deal with my menstruation and it's giving me confidence of fertility in my future.
01/15/2023
Kelley B.

United States
First month review
I love this product. I suffer from PCOS and don't get regular periods. I haven't had one in 3 months and after finishing my first month i started my period. My hormonal acne is gone and my facial hair growth has slowed down too! I am loving this product!!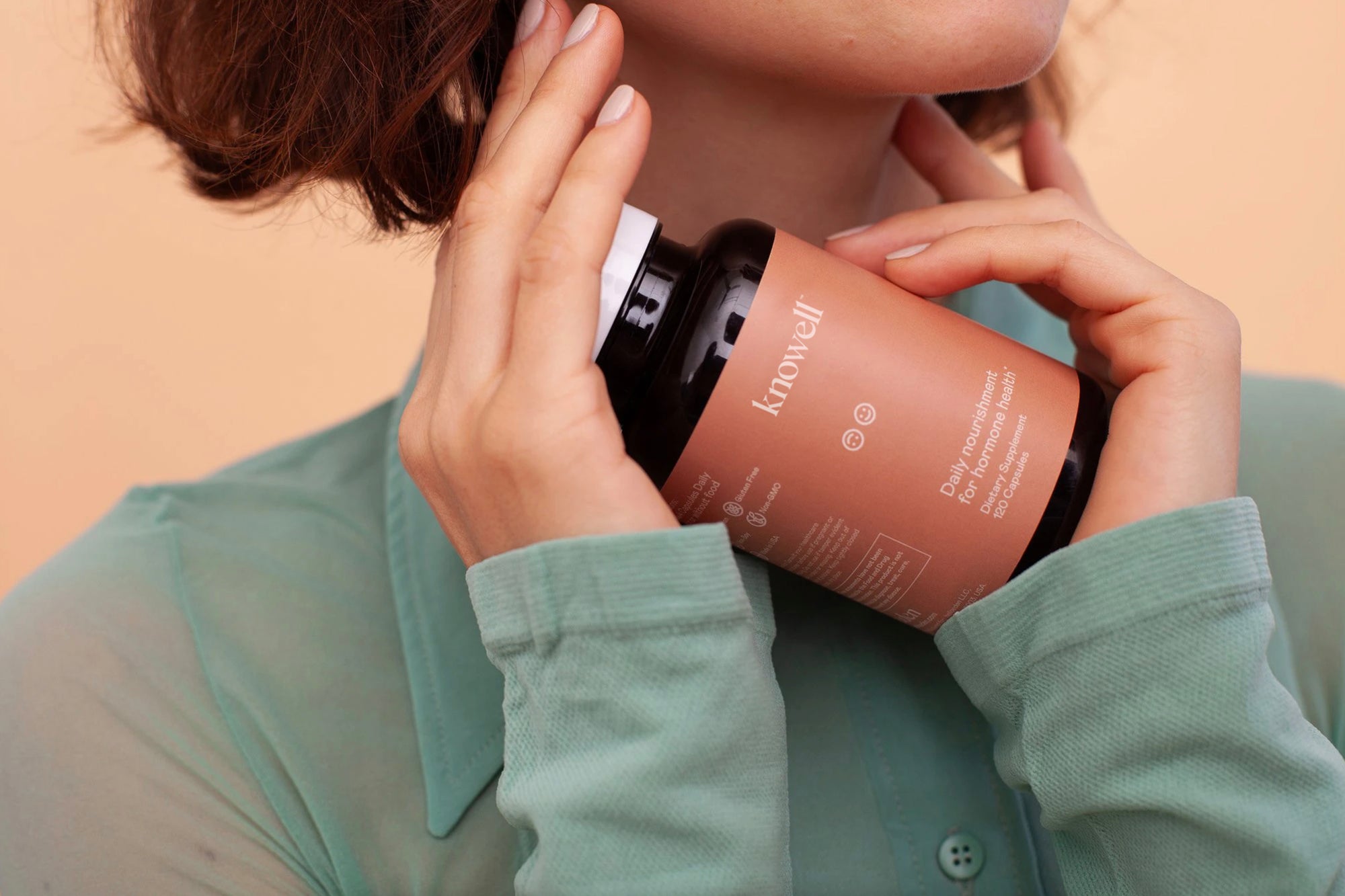 Only the best for your hormones
Our ingredient standards border on obsessive, and we promise to deliver you the highest-quality supplements, always.
Knowell is made in the USA at a cGMP, FDA-registered facility. (Translation: The best of the best.) We carefully test all ingredients at every step of the production process to guarantee the utmost purity. What you see on the ingredient list is what you get.
Testimonials
Not all multi-vitamins are created equal - I can tell you that this supplement passes all of my supplement scrutinies!!
Dr Erin Kinney
It's got the right ingredients to support estrogen balance, metabolism, healthy gut, and stress reduction!
Callie Exas RDN